My read of all the evolving science, research and expert opinions is that this Coronavirus is behaving like a typical seasonal flu - albeit a really bad one. The reason this will have more impact than the typical seasonal flu is the lack of human immunity among the global population. This means most people will become infected.
Keep in mind that the ordinary seasonal flu has infected at least 36 million people globally so far this year and has led to as many as 55,000 deaths. Of note, 2 studies published over the past few days re-evaluated the Wuhan data and have shed some light on the epidemiology of COVID-19.
One study suggested that for every diagnosed case, there were 5-10 undiagnosed cases. These undiagnosed cases were people with a mild disease. However, these people were the primary "vectors" of new cases i.e. these people infected others at a high rate.
The 2nd study revised downward the estimated death rates from the original 2-3% to 1%. Additionally, deaths were mostly among the elderly, which is consistent with what occurs with ordinary seasonal flu. Death rates among younger people were very low, nearly approaching zero. These numbers were not surprising given that COVID-19 appears to mirror what occurs with prior influenza viruses.
As more evaluation of the epidemiology of the COVID-19 becomes available, we will keep you "in the know".
Again, please feel free to send back comments and suggestions as to what you would like to have us post.
Sincerely,
Dr. Ben Hoffman, MD, MPH
Chief Medical Officer, WorkSTEPS
Click here for more info on our Coronavirus Medical Hotline for Employers & Employees
Medical:
| | | | |
| --- | --- | --- | --- |
| Area | Reported Cases | Deaths | Recovered |
| Global | 179,507 | 7,607 | 78,286 |
| United States | 4,141 (+461) | 71 (+3) | 73 |
Only US state not reporting cases: West Virginia
Four new countries/territories/areas (French Polynesia, Turkey, Honduras and Côte d'Ivoire) have reported cases of COVID-19 in the past 24 hours.
China CDC retrospective analysis of 72,000 cases:
Fatality rate for patients 80 and older was seven times the average (21%)
Fatality rate for patients 70-79 was three to four times the average (9-12%)
Fatality rate of 40 and younger 0.2%
JAMA published a case report confirming that an infected person remained asymptomatic and transmitted the SARS-CoV-2 virus to their contacts producing two symptomatic polymerase chain reaction ("PCR") + people. It's not clear if this is an "outlier" as most experts believe it is likely that a person is not contagious until they are showing symptoms of flu, even if mild.
Based on a doubling time of 2 days, epidemiologists predict most of the US population to be infected over the next few months.
Prevention / Mitigation:
Pandemics of respiratory disease follow a certain progression outlined in a "Pandemic Intervals Framework." Pandemics begin with an investigation phase, followed by recognition, initiation, and acceleration phases. The peak of illnesses occurs at the end of the acceleration phase, which is followed by a deceleration phase, during which there is a decrease in illnesses. Different countries can be in different phases of the pandemic at any point in time and different parts of the same country can also be in different phases of a pandemic.
The United States, nationally, is currently in the initiation phases, but states where community spread is occurring are in the acceleration phase.
Risk of exposure:
The immediate risk of being exposed to this virus is still low for most Americans, but as the outbreak expands, that risk will increase. Cases of COVID-19 and instances of community spread are being reported in a growing number of states.
People in places where ongoing community spread of the virus that causes COVID-19 has been reported are at elevated risk of exposure, with the level of risk dependent on the location.
Healthcare workers caring for patients with COVID-19 are at elevated risk of exposure.
Close contacts of persons with COVID-19 also are at elevated risk of exposure.
Travelers returning from affected international locations where community spread is oc-curring also are at elevated risk of exposure, with level of risk dependent on where they traveled.
CO, NY, CA, WA are going to begin drive through consultation / testing locations this week.
The Nation's largest school district, NYC, will close schools starting today.
Understanding the transmission sequence: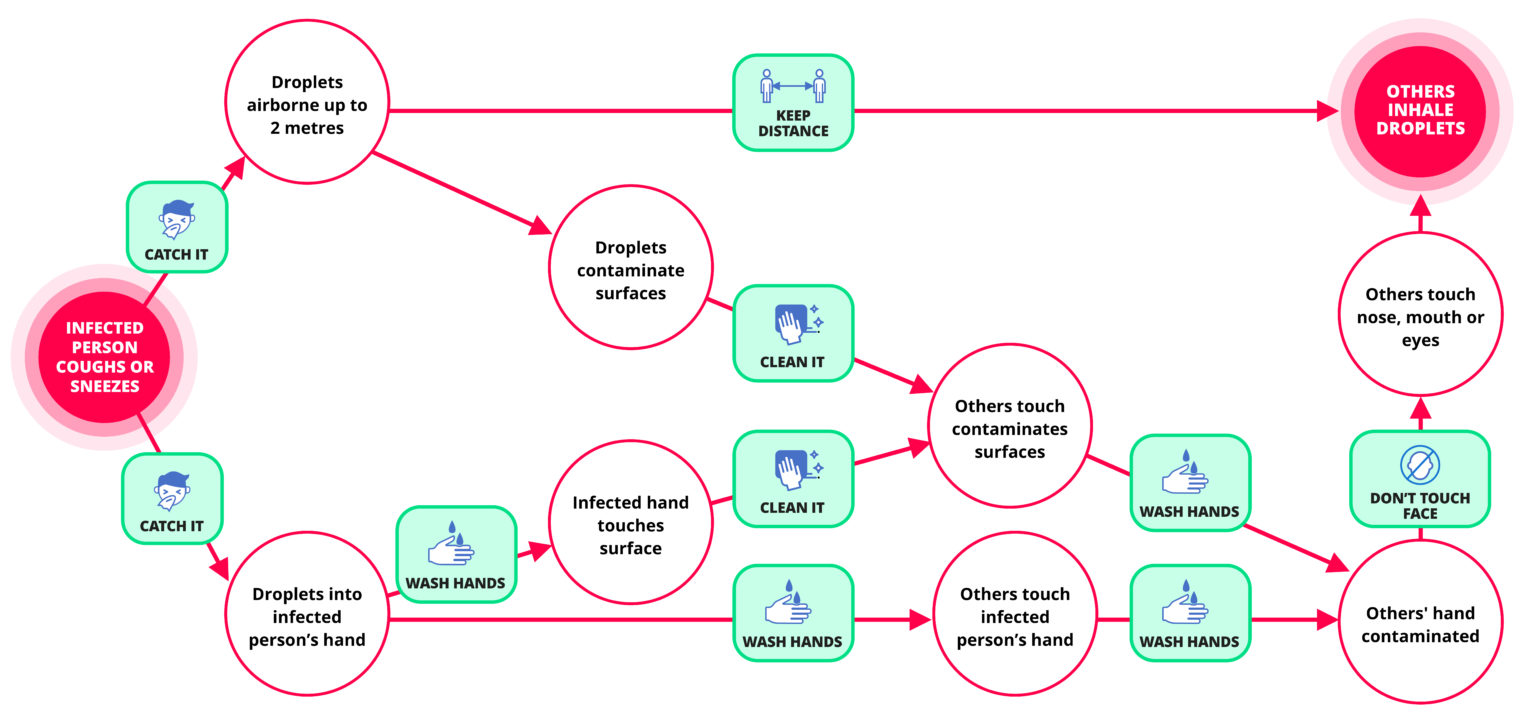 Image source
Several states, included in a recent announcement by NY Gov., are ordering restaurants and bars to close or limiting them to take out / delivery only.
Italy reports 368 deaths over last 24hrs topping China's highest death toll of 254 Feb 13th.
Italy reporting 24,700 cases, even as the entire country has been locked down for a week.
The Centers for Disease Control and Prevention recommended that no gatherings of 50 people or more be held in the U.S. for the next two months. "For a while, life is not going to be the way it used to be in the United States," Dr. Anthony Fauci, the director of the Nation-al Institute of Allergy and Infectious Diseases, said on Sunday.
Notable Headlines
CDC Situation Summary
NYT: Coronavirus, Stock Markets, Democratic Debate: Your Monday Briefing
NYT: New York City to Close Schools, Restaurants and Bars
WHO: Situation Report 52
NYT: CDC Gives New Guidelines, New York to Close Restaurants and Schools and Italian Deaths Rise
WHO: Situation Report 55
Corporate:
Research has now shown that aerosol and fomite transmission of HCoV-19 on surfaces is plausible, as the virus can remain viable in aerosols for multiple hours and on surfaces for days. Surfaces with varying times of infectiousness ranged from 4 hours on copper and up to three days on plastics and stainless steel.
Aerosol and surface stability of HCoV-19 (SARS-CoV-2) compared to SARS-CoV-1
Neeltje van Doremalen, Trenton Bushmaker, Dylan H. Morris, Myndi G. Holbrook, Amandine Gamble, Brandi N. Williamson, Azaibi Tamin, Jennifer L. Harcourt, Natalie J. Thornburg , Susan I. Gerber, James O. Lloyd-Smith, Emmie de Wit, Vincent J. Munster
EPA recommended disinfecting agents effective against SARS-CoV-2
US CDC and UK Public health waste guidelines:
All surfaces where a symptomatic person has come into contact with must be cleaned and disinfected.
Use disposable cloths / towels and disposable mop heads
Double bag contaminated waste
Waste must be held on site for 72hrs to allow virus to die before placed with the common daily waste
If contaminated waste is to be disposed of prior to 72hrs it must be handled as biohazard waste and not placed with common daily waste.
Google is supporting WHO guidelines by posting on their homepage "The basic protective measures against coronavirus" -
The Big Five:
HANDS: Wash them often
ELBOW: Cough into it
FACE: Don't touch it
FEET: Stay more than 3 feet apart
FEEL: Sick? Stay home